The Cyprus Historic & Classic Vehicle Club, the Cyprus Historic & Classic Motor Museum in cooperation with the Limassol Tourism Board are organizing the «Limassol Classic Regularity Challenge» on Sunday, 8th of November 2020. This will be a charity event and all proceeds will be donated to the Cyprus Anti-Cancer Society.
The first car will start at 10 a.m. from the historic center of Limassol. The challenge covers a distance of about 30 km in the city center, passing from points of interest such as the Limassol Marina, Molos, the Old Port, Saripolou square, Agora , the University Library, St. Andrew street, the Limassol water tank, the Municipal Gardens, the Historic Archive, and more. A precision test, to challenge the contestants driving skills, will take place in Enaerios parking area.
The challenge is expected to last around two and a half to three hours. The public will have the opportunity to enjoy the spectacle and take photos of the classic cars.
Applications for participation will be accepted until October 29, 2020. Due to the charitable character of the event, contributions will be accepted, while corporate sponsors will be promoted on the sides of a car.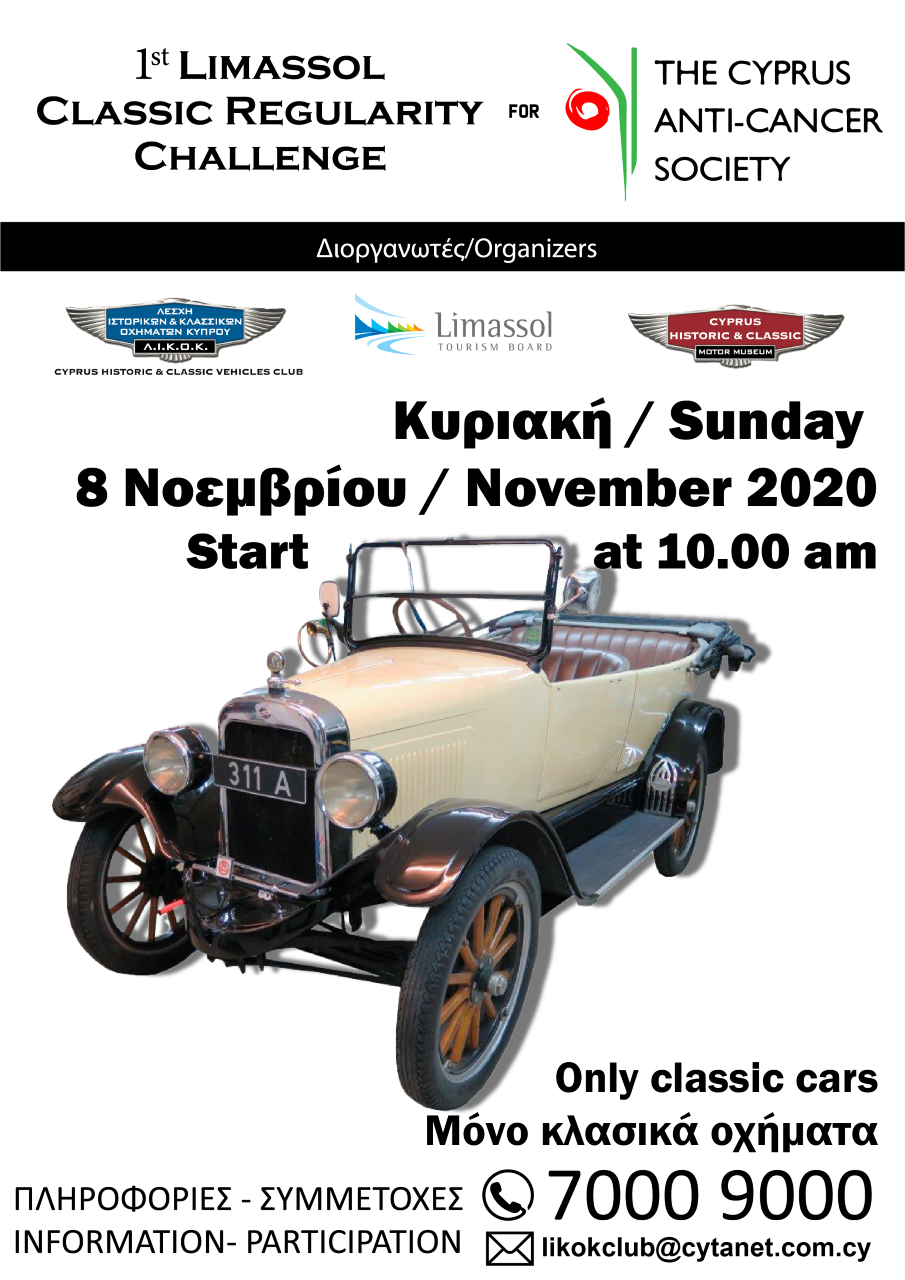 Η Λέσχη Ιστορικών & Κλασικών Οχημάτων Κύπρου και το Μουσείο Ιστορικού & Κλασικού Αυτοκινήτου σε συνεργασία με την Εταιρεία Τουριστικής Ανάπτυξης και Προβολής Λεμεσού και τον Αντικαρκινικό Σύνδεσμο Κύπρου, διοργανώνουν, την Κυριακή 8 Νοεμβρίου 2020, τον αγώνα ακριβείας «Limassol Classic Regularity Challenge» για κλασικά αυτοκίνητα.
Ο αγώνας θα έχει φιλανθρωπικό χαραχτήρα και όλα τα έσοδα θα διατεθούν προς ενίσχυση του Αντικαρκινικού Συνδέσμου Κύπρου.
Το πρώτο όχημα θα εκκινήσει στις 10:00 π.μ από το ιστορικό κέντρο της Λεμεσού. Οι διαγωνιζόμενοι θα διανύσουν μια απόσταση περίπου 30 χμ μέσα στο κέντρο της πόλης, περνώντας από διάφορα σημεία αναφοράς όπως η Μαρίνα της Λεμεσού, ο Μόλος, το παλαιό Λιμάνι, η πλατεία Σαριπόλου, η Agora, η Δημοτική Βιβλιοθήκη , ο πεζόδρομος Αγίου Ανδρέου, ο υδατόπυργος (ντεπόζιτο) της Λεμεσού, o ζωολογικός κήπος, το Ιστορικό Άρχείο κτλ. Στο χώρο στάθμευσης του Εναέριου, θα υπάρχει ειδική δοκιμασία δεξιοτεχνίας οδήγησης (special driving test).
Η διαδρομή αναμένεται να διαρκέσει γύρω στις δυόμιση με τρεις ώρες. Το κοινό θα έχει την ευκαιρία να φωτογραφήσει και να φωτογραφηθεί με τα αυτοκίνητα, ενώ θα απολαύσει ένα υπέροχο θέαμα με σειρά εντυπωσιακών κλασικών αυτοκινήτων.
Οι Δηλώσεις Συμμετοχής θα γίνονται δεκτές μέχρι τις 29 Οκτωβρίου 2020. Λόγω του φιλανθρωπικού χαραχτήρα της εκδήλωσης θα γίνονται δεκτές εισφορές από διαγωνιζόμενους και μη, ενώ οι ενδιαφερόμενοι χορηγοί/εταιρείες μπορούν να κάνουν την συνεισφορά τους για τον Αντικαρκινικό Σύνδεσμο Κύπρου και να διαφημιστούν στα αυτοκίνητα που θα συμμετέχουν.